Top 5 Free DVD Burners
2019-03-18 22:51:31 Posted by Ada
5679
Summary: Want to find a free DVD burner to burn video/data to DVD disc or to make a DVD copy? This article lists 5 best free DVD burners for you to burn DVD on Windows/Mac. DVDFab DVD Copy and DVD Creator are advanced choices for you.
The Most Complete DVD/Blu-ray/4K UHD Solutions
DVDFab 11 offers the world's most complete DVD, Blu-ray and 4K Ultra HD Blu-ray backup solutions to help users make home backups to their DVDs, Blu-ray, and 4K Ultra HD Blu-rays in the ways they prefer.
Though flash drives and cloud storage are thriving nowadays, recordable DVD is still one way for people to store music, video, files and other data. You can copy files from your hard drive to DVD disc on Windows, but if you want to do anything more advanced, you need to turn to a DVD burner or copier. There are plenty of DVD burners for Windows/Mac in the market, some of them are in high prices, and some of them are totally for free. Here in this article we've gathered top 5 best free DVD burners that can compete with some of their paid counterparts and 2 full-featured DVD burners that contain many advanced features that those free DVD burners don't have.
Top 5 Best Free DVD Burners
1. ImgBurn
ImgBurn is the most powerful free burning tool which can help you burn CD/DVD/HD-DVD/Blu-ray images with ease. With 5 working (Read, Build, Write, Verify, Discovery) modes, it can create ISO image from DVD disc or your files on your computer and write the image file to a DVD disc. If you want, you can also write your files directly to a DVD disc with this DVD burner. It also can be used to build DVD Video discs from a VIDEO_TS folder and HD DVD Video discs from a HVDVD_TS folder.
In addition to the burning function, it also contains the features like checking a disc is 100% readable or not, checking the burning quality, erasing a re-writable disc, etc.
In fact, the advanced options like Data Type, File Systems, and more in ImgBurn may confuse you when it's your first time to use it to burn a DVD. So ImgBurn is not so friendly for novice users or users who do not have so much knowledge on multimedia. ImgBurn only supports Microsoft Windows OS's.
2. BurnAware Free
BurnAware Free is a simple and free windows program for you to burn CD/DVD/Blu-ray disc. Its interface is simple and straightforward, and it also offers a step-by-step guide for users to burn DVD easily. With BurnAware Free, you can create and burn data DVDs, DVD-Videos, standard/bootable ISO images, copy DVDs to disc images, erase rewritable DVD discs, and verify DVD discs. The whole burning process is clear, so the program is not only for novice users but also anyone who want to burn a DVD quickly.
When you install it to your Windows 7/8/10, you should keep an eye on the bundled software in case of installing unwanted extras.
3. CDBurnerXP
CDBurnerXP is an easy, quick and free software program for burning CDs and DVDs, including HD-DVD and Blu-ray. It can create DVDs from files on your hard drive and create Video DVD discs from Video_TS folder. It also contains the feature of burning and creating ISO files. Its clean interface makes it easy to find the feature you are looking for. In addition to the regular disc burning features, This DVD burner offers some additional features like cover printing for data and audio discs, command line version, support for the most drive types and more.
CDBurnerXP is only available for Windows system. To use CDBurnerXP, you need to install Microsoft . NET Framework on your computer.
4. Burn
Burn is an excellent free DVD burner for Mac just like ImgBurn is a powerful free DVD burner for Windows. It can burn various files to DVD discs for backup and create Video DVD discs that can be played on DVD players. One salient feature of Burn is that it allows you to create interactive menus. Like other DVD burners, Burn can recreate discs from disc images, but it can also copy a DVD disc to a DVD disc. There are 4 modules in Burn, which are clearly classified for you to create Data/Audio/Video DVD and copy DVD.
5. Express Burn
Express Burn is a free CD and DVD burner that can burn audio/data CDs and DVDs on Mac easily and quickly. It can burn various videos to DVDs. It is pretty easy to use, and you can simply drag and drop the files you want to burn to its interface and then click "Burn" button. It doesn't contain some added features like DVD cover authoring or LightScribe burning, but it is indeed a fast burner among a plenty of free DVD burners. It is available for both Windows and Mac systems.
More Advanced DVD Burners
Though the above free DVD burners can do the basic burning job, they cannot fulfill your needs from every aspects. For example, if you want to clone/burn/copy a protected DVD/Blu-ray, they would can do nothing to help. Most of them are for single OS platform, so they are not both available for Windows and Mac users. Many of them don't contain some advanced features that can let you customize your settings. Here are two more powerful DVD burners that exceed these free programs in many ways.
DVDFab DVD Copy is a copy tool but also a professional burning program that can burn any standard Video DVD disc/folder/ISO file to blank DVD disc with up to 6 modes (full disc, main movie, customize, split, merge, clone). In fact, this burner tool also allows you to copy DVD to DVD folder or ISO file. With clone mode, you can also clone any Data DVD disc/folder/ISO file to blank DVD disc. DVDFab DVD Copy can decrypt nearly all commercial discs which contain the protections like RC, RCE, APS, UOPs and more.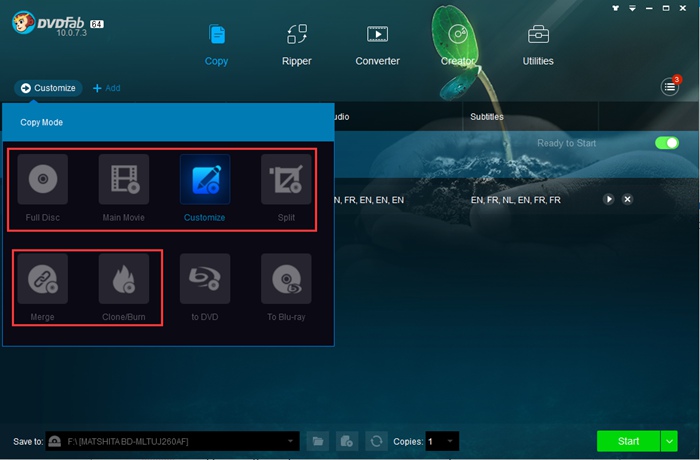 It is very easy to burn DVD with DVD Copy, and what you should do is to choose a mode, load the source and click the Start button. DVDFab DVD Copy enables you to customize your own DVD: you can choose the titles, chapters, audio tracks and subtitles you want. The another feature of DVDFab DVD copy is that it can compress DVD 9 to DVD 5 but still ensure you a great video quality. You never need to worry about the burning speed, because it features a rapid speed that its rivals cannot arrive at. This burner supports both Windows and Mac systems.
DVDFab DVD Creator is also a great DVD burner that can burn videos in any formats to DVD blank disc/folder/ISO file on Window or Mac system. Whether the videos downloaded from video website like YouTube or videos recorded by yourself with smartphone or camcorder are all supported by this DVD creator. Same with DVD copy, it only requires several mouse clicks to start the burning process. With the multi-threading, multi-core CPUs and the newest hardware acceleration technology applied, this DVD movie maker can ensure you a blazing fast converting and burning speed.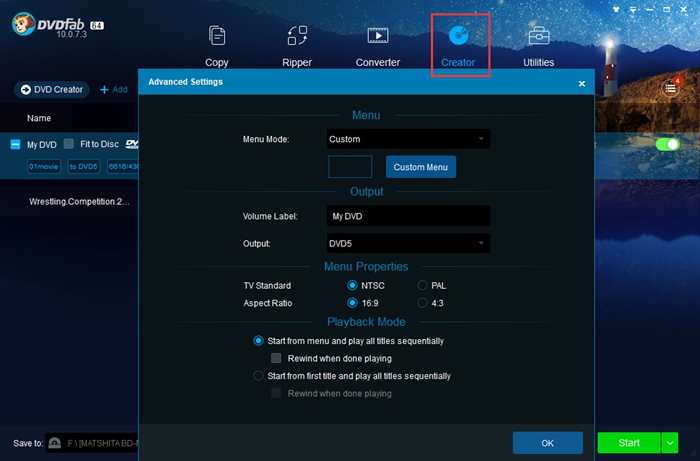 If the video you are going to burn doesn't contain a subtitle track, you can use DVDFab DVD Creator to add external subtitles. This DVD maker also allows you to customize your menu. There are many beautiful and interesting templates and gadgets, you make use of them to create a menu you like.
The best DVD ripping software that can quickly rip and convert a DVD to any mainstream audio & video formats for playback on PCs, portable and mobile devices.