Χ
The Best Video Player to Play H.265(HEVC), H.264, MPEG-4, MPEG-2, DivX and More Videos
2019-08-31 09:16:24
Currently, we come to the era of HEVC, or we can call it H.265, a new video compression standard in place of H.264. With the help of H.265, more high-quality videos can be delivered through limited broadband. In other words, we only need half of the broadband required by H.264 videos to play the same-quality H.265 videos. So it is possible for us to play full HD videos up to 4K in such mobile devices as smart phones and tablets, not to mention personal computers. Subsequently, I will recommend you a terrific H.256 player - DVDFab Player 5, to assist you in playing any H.265 videos for Win/Mac.
Step 1: Download and Install DVDFab Player 5
As the best video player for H.265 videos, DVDFab Player 5 is dedicated to providing its users with satisfactory 4K Ultra HD Blu-rays play experience. Now, download and install this software, and you will know how it works to live up to your expectations.
Input "DVDFab Player 5" in Google, and you will be led to the official website of this product as is shown below. Based on the system of your personal computer, choose Windows or Mac to click. If you choose Mac, and the page to pop out will become pink, with some description about Mac. After that, click Free Download - Quickly Install - Immediately Experience and choose preferred mode, and you will start the first meeting with this software.
Step 2 - Introduction of the use of DVDFab Player 5
1. Add A Video to DVDFab Player 5
After starting this software, what you see next is such an interface where a striking + icon stands out. What is it used for? Click the + icon and you will be asked to find your target video. So, you can set a place to store your H.265 video in advance for convenient review. After locating your video, click Open at the bottom and your video will be loaded by this software. Then, only several seconds is needed before your video is played smoothly. As the winner among H.265 players, DVDFab Player 5 outdistances its competitors by opening a 4K Ultra HD Blu-ray disc five times faster than them. Apart from this feature, it also makes great improvement in software stability, compatibility with ISO image files and folders.
2. Do some presettings
Then, pay attention to the inverted triangle-Settings-General on the right top corner. There are some presetting you can do according to your needs. For example, you can set the language for easy reading. DVDFab Player 5 is available in 13 languages, including English, Polish, Russian, Italian, Japanese and so forth. Choose any language you like. Apart from the language, you can decide whether you need to be reminded of choosing PC Mode or TV Mode when starting this software. If you do have this demand, you can choose "Ask me each time". Otherwise, choose a constant option between PC Mode and TV Mode under Launch Mode for convenience. Here, PC Mode is to bring a truly immersive media watching experience on computer screen, while the TV Mode is to bring cinema-equivalent audiovisual experience on large-screen TVs. Next, in terms of the last option Log Path at the bottom of this panel, you can choose or create a folder to save your H.265 videos.
3. Enable menu playback function
Stay on the same panel with the last one, click Playback on the left side, and you will see the picture below. There are two kinds of playback modes for both UHD/Blu-ray and DVD. You can choose either Simple Mode or Menu Mode based on your preference. This software is dedictated to provide you with the best service.
4. Enjoy 3D playback support
This software supports 3D playback on genuine 3D Blu-ray discs, ISO files and SBS or top & bottom 3D videos. When your video is playing in this software, there is a cube icon at the bottom of this interface. Click the cube icon, choose 3D Source Format, and then you can click Side by Side, or Top/Bottom to play your video.
5. Choose preferred 3D output format
Click the inverted triangle on the right top corner and choose 3D Display option. Pay attention to 3D Display Device, and you can find 4 kinds of output formats. Choose one according to your need.
6. Explore high dynamic range
On the same panel with the last picture, but this time you need to click Video to make some adjustment for better pixels, higher resolution, better contract, more color and faster frame rates. As it puts at the bottom, you can click the button "Analyze Hardware" to check if your computer environment is perfectly ready for HDR and 4K UHD contents. For those with HDR 10 capable display monitor or 4K TV, your video playback experience will be terrific if you enable the HDR function.
7. Experience high-resolution audios
DVDFab Player 5 supports hi-res audio output. Click Settings-Audio from the inverted triangle on the right top corner. There you can choose from Dolby Digital (AC3), DTS AND TrueHD/DTS-HD to get better audio effect. Volume amplification and audio offset are also on call on this panel.
8. Create preferred playlists
For those who have strong love for collecting movies, there are some buttons for you to create your own playlists. Click the first button at the bottom, and you will see the list you have played. At this moment, if you want to collect more, just click the + icon to add more videos. Then, you can manage and arrange your favorite videos in this newly created playlist by name or type, and play them in order, repeat a single one or repeat all based on your preference. If you want to change another new video to play back, you can also click the farthest left square to choose a new one.
9. Add subtitle and preview chapters
When you are playing your movie in this software, if there is no subtitle or no proper subtitle for your watching, you can set the language of this subtitle immediately. As you can see, many languages are available, not limited to the languages below. In addition, you can click the option of Chapter to decide which part to be played.
Conclusion
Now you may be have a better understanding of how to use DVDFab Player 5. If you have difficulty to play preferred movies, who not try it? As the best player, it is the loyal friend for Win/Mac users to play back their favorite videos. With so many functions not confined to what I have mentioned above, I dare to say that this tool is what you are looking for. It supports all media formats, including MP4, MKV, MOV, VOB, M2TS and more. No matter what the codecs is, ranging from H.265(HEVC), H.264, MPEG-4, MPEG-2, DivX and more, this tool can guarantee its fluid play. Considering users' demands for high video quality, various kinds of video resolution are available, such as 720p, 1080p up to 4K UHD. If you also have other needs on video download, you can ask the brother of this software for help by referring to How to Download Videos with DVDFab Video Downloader.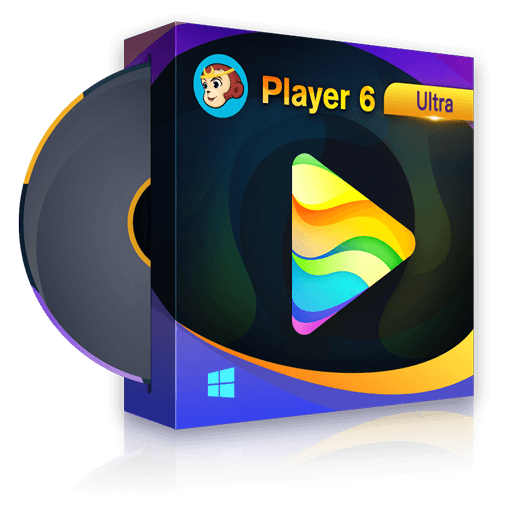 ① Play DVDs, Blu-rays and 4K Ultra HD Blu-rays with native menus
② Play non-disc media including all formats of videos, up to 4K
③ Play genuine 3D discs, ISO files, SBS or top & bottom 3D videos
④ Display the original HDR10 video to deliver crystal clear images
⑤ Output Hi-Res audios, like Dolby Atmos, with up to 7.1 channels