Χ
The Best 4K UHD Player to Play 4K UHD Blu-rays And UHD Videos
2019-07-15 06:29:18
4K UHD is an ultra-high definition resolution format which is four times the resolution of Full HD. Videos shot in 4K UHD format have plenty of detail which is sometimes comparable to the normal human vision. If you are watching a 4K UHD video then it simply means that you'll be enjoying it in the best ever detail with life-like visuals. But 4K videos can't be easily played on a Mac or a Windows computer. Because their built-in players don't have 4K support. Even if you use some free 4K players then you'll find that they lack performance and don't work smoothly. So, the only option is to find a compatible 4K UHD player that you can use to play your favorite 4K UHD Blu-rays and videos on PC and TVs. Here in this article we are introducing DVDFab Player 5 which is the world's best 4K UHD Player.
Part 1: DVDFab Player 5: Download and Installation
Before diving deep in this article you should download and install DVDFab Player 5. Because this will have several benefits as while reading the article you can always test the features, functions, and options of this 4K UHD player as we tell you. Installation will prevent all types of doubts and confusion related to software usage. DVDFab Player 5 is available to download for both Mac and Windows operating systmes. You can find the download links below.
DVDFab Player 5 for Mac and Windows – Download Now for Win and Download Now for Mac
Download the software and follow the instructions to install it successfully on your machine.
Part 2: How to Use DVDFab Player 5 to Play 4K UHD Blu-rays And UHD Videos On PC and TV
DVDFab Player 5 is the world's first and the best 4K UHD player available so far. It not only works with PCs, but also works with 4K HDTVs over HDMI connection. However, not being a hardware player it still has a powerful support for HDR enabled UHD videos. DVDFab Player 5 works in two modes which are 'PC Mode' and 'TV Mode'. Playing 4K UHD requires a powerful computer hardware because the high definition detail needs to be properly decoded, HDR data requires proper processing. This can only be done by a powerful computer rig. So, we just you having at least Nvidia GeForce GTX series cards if you want to enjoy the best and smooth 4K entertainment.
Part 2.1: DVDFab Player 5 PC Mode
This mode is suitable for watching 4K UHD Blu-rays and UHD movies on a computer (Mac/Windows) with recommended hardware. You should have a 4K monitor too for enjoying the UHD videos with HDR and full 4K resolution.
Note: DVDFab Player 5 fully supports 4K UHD Blu-ray ISOs and folders. Blu-ray ISOs and folders can be regarded as the soft copies of the original 4K UHD Blu-ray discs.
Open DVDFab Player 5 and click the 'PC Mode'.
Click the 'Plus' button to load a 4K UHD video, ISO, or a UHD Blu-ray folder. Alternatively, you can just drag and drop the files in to the player window to start playing. If you have a 4K UHD Blu-ray disc then you can insert it in the optical UHD Blu-ray drive to play it in the player.
Once the 4K UHD Blu-ray disc, ISO, or UHD videos start playing then the player's UI will look like this below.
While the video plays you can access the on-screen options by right clicking on the player screen. Here you can customize options related to video, audio, subtitles, playback etc. without having to stop the video.
Press the 'F5' key to access the player 'Settings'. You are advised to customize the settings as per your requirements. You can customize settings related to video, audio, subtitles etc. You can also learn about player hotkeys here.
Part 2.1: DVDFab Player 5 TV Mode
The TV Mode should be used for watching the 4K UHD Blu-ray discs or UHD movies if you have a 4K HDTV. This mode is specially designed for the large screen HDR-enabled 4K UHD TVs. In this mode the DVDFab Player 5 works pretty similar to a media center.
Special Instruction: You'll need to connect your 4K UHDTV to your PC via HDMI cable. You are also advised to configure the best display settings for your TV screen on your PC. Configure the display settings on your PC for this external display and also set graphics card's settings individually if required.
Open the software and click 'TV Mode' on the first screen. This will open the player as a full screen media center that will appear on your TV screen too.
On the main interface you will have the 'Disc' and 'My Computer' option. Click the 'Disc' and load your UHD Blu-ray disc or click 'My Computer' to load videos, UHD ISOs, or folders from your computer's hard disk.
This is a media center styled UHD player that's why you won't see even basic player controls on the TV screen. To compensate this you have to learn the hotkeys which can be found in 'PC Mode>Settings>Hotkeys'.
The 'TV Mode' player does provide some on-screen controls that can be accessed by right clicking in the left most part of the screen. Check if you need to customize these settings or not.
Note: If you are using Player 5 on Windows, you can also use the remote controls for Windows Media Center to control the playback of Player 5.
Part 3: DVDFab Player 5: List of Notable Features
DVDFab Player 5 is the ultimate 4K UHD player, but saying this won't be enough at all. Throughout the article we didn't mention the killer features of DVDFab Player 5. These are the features which distinguish this 4K UHD player from other players. On the basis of these features we can call DVDFab Player 5 as the best 4K UHD player. These features can also serve as the reasons for choosing this player over any other 4K UHD player. Here are some notable features of DVDFab Player 5.
Plays all kinds of video formats including 3D, 4K UHD, HEVC, and other media files.
Fully supports navigation menu on Blu-rays and 4K UHD Blu-rays.
Supports HDR10, the advanced version of HDR which delivers the crystal video quality on a 4K TV.
Supports wide range of Hi-Res audio output supports including Dolby Atmos, DTS:X, Dolby TrueHD, DTS-HD Master etc. It also supports 7.1 channel audio output which is good for home theater systems.
With DVDFab Player 5 you can customize playlists and can see smart preview with thumbnails.
The on-screen player controls ensure that you can change any option without stopping the video.
Note: DVDFab Player 5 also has a free version which is not able to play 4K UHD media. It can only be used to play common audio, video formats.
Conclusion
From the article it is clear that 4K UHD is quite an expensive devotion to ultra high definition entertainment. You'll need 4K screens, poweful video cards, CPUs, monitor, speakers system etc. to watch the 4K UHD Blu-rays and UHD videos with the best possible experience. But all these powerful hardware are just mere pieces of materials without DVDFab Player 5. DVDFab Player 5 has got the power to bind all these hardware equipment in creating the best 4K UHD entertainment experience for you. You'll be astonished by its HDR function, 7.1 digital surround sound, performance and fluidity. Now please don't expect this awesome software to be free because it is available to purchase at a very reasonable price which is nothing as compared to your powerful hardware equipment.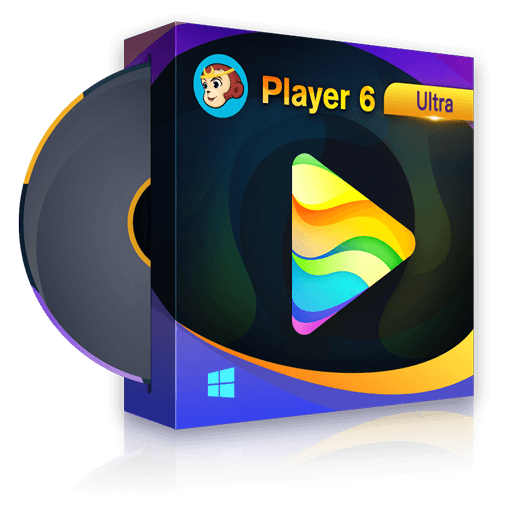 ① Play DVDs, Blu-rays and 4K Ultra HD Blu-rays with native menus
② Play non-disc media including all formats of videos, up to 4K
③ Play genuine 3D discs, ISO files, SBS or top & bottom 3D videos
④ Display the original HDR10 video to deliver crystal clear images
⑤ Output Hi-Res audios, like Dolby Atmos, with up to 7.1 channels