Χ
DVDFab Player 5 – The Best Free Video Player to Enhance Your Viewing Experience on PC and TV
2019-08-09 03:45:43
DVDFab Player 5 is a free video player, capable of playing a variety of media formats on your PC or TV. While going to the cinema to watch a movie on the big screen certainly has a unique appeal, nowadays you can get a very similar experience from the comfort of your own home. Some movies are more enjoyable when viewed on a large screen but you can definitely enjoy them on a smaller one as well. Perhaps equally as important as the display is having a good media player that can enhance your viewing experience. That's particularly true when the player in question can be used for free, as is the case with DVDFab Player 5.
This free video player offers all the features you'll ever need from a media player. Player 5 supports all the most popular video formats out there and allows you to play MP4/AVI/MKV (or other formats) without any hassles. In addition, the player also offers navigation menu support for Blu-rays and DVD discs. Moreover, you can take advantage of its two playback modes to achieve an excellent viewing experience on both PC and TV. Now that you know a little bit about what the player can do, let's take a closer look at how to get the most out of it.
DVDFab Player 5 Variants
Just as the title of this article indicates, DVDFab Player 5 is a free video player, however, you can also pay for it if you wish. Why would you do that? Well, there are obviously certain benefits included in the paid versions that you can't get access to if you're only using the free one. I say 'versions' because there are two different ones to choose from, each with its own benefits.
The two paid versions are known as Standard and Ultra. Unlike the free variant, Standard includes full navigation menu support for DVDs and can even play Blu-rays in Simple Mode (without navigation menus). This version also comes with support for more types of discs and a wide range of other useful features. Meanwhile, the Ultra version offers everything included in Standard along with full navigation menu support for Blu-ray discs and 4K Ultra HD Blu-rays. Ultra can also play 3D videos and supports advanced features such as HDR, H.265 formats, and 7.1 channel audio.
Although we're going to use the free video player in this particular example, we wanted to list some of the benefits you can expect by choosing one of the other versions. Just in case you're thinking about upgrading further down the line. The free version can definitely handle a lot of formats so there's no need to worry about that. However, if you want to be able to play any format out there and gain access to many advance features in the process we recommending upgrading to Standard or Ultra.
You can find more information regarding the differences and similarities between the various versions of DVDFab Player 5 on the official website.
Download and Installation
Downloading and installing DVDFab Player 5 is very simple so we won't spend too much time in this section. Simply visit the official website and go to the More section, which can be found in the top menu. There you will find multiple products you can choose from, including the free video player. Click the Player 5 option and then choose either Windows or Mac before hitting the "Free Download" button. Install the player on your computer as you would any other piece of software and you'll be all good to go.
How to Play MP4/AVI/MKV (or other formats) with DVDFab Player 5
We mentioned the two playback modes – PC and TV - a few times earlier so let's take a minute to explain what they are. The PC mode is the one you'll want to choose if you plan on watching videos on your computer. If you want to watch them on your TV instead, you'll want to go for the TV mode. The main difference between them is that each offers a different user interface specifically designed for the platform of your choice. The two modes offer very similar features so the differences mostly come from how they look and feel.
PC Mode
Upon choosing this mode, Player 5 will show you a list of all your available optical drives along with the discs found inside them, if any. If you've inserted a DVD or Blu-ray movie, you may also see a background image that's relevant to the movie. You can quickly play movies from this interface by simply hovering over the one you want to watch and clicking the Play button. If there are no discs in your optical drives you can click the upward arrow next to the Play button to have Player 5 open the drive so you can insert one.
For obvious reasons, the method described above only works if you want to watch videos directly from discs but you can of course also watch digital content already found on your computer. To do so, simply click the big "+" button found in the lower part of the UI or use the drag & drop method to add the video you want to watch. Dragging and dropping works not just with individual files but also ISO folders so don't hesitate to use this method if you find it more efficient.
TV Mode
If you pick the TV mode in the free video player you'll notice that the user interface looks a bit different. Aside from not featuring a "+" button, this mode also lists your optical drives in the bottom half of the UI under the Disc menu. You can still play local digital content but instead of using the "+" button like you would do with the PC mode, you'll need to open the My Computer menu instead. Use this menu to navigate to the hard disk or video library containing the movie you want to watch and then open it.
The reason the menu is different in this mode is because it looks much better when viewed on a large-screen TV. Not just that, but it's also a lot more practical and easier to navigate using a remote app from the comfort of your couch. You may notice that the TV menu includes an additional option labeled Movie Server. This option works hand in hand with another product known as DVDFab Movie Server so don't hesitate to use it if you own this product. You can learn more about DVDFab Movie Server by visiting the official website.
Settings and Hotkeys
The Settings menu of the free video player can be accessed in one of two ways, depending on which of the playback modes you are using. In the PC mode, the menu can be accessed by clicking the little arrow button located in the top right corner of the UI. Upon doing so, you will open up a dropdown menu that contains several options, the first of which is Settings. An even faster way of accessing this menu is by using the relevant hotkey, which is F5 on Windows.
The Settings menu is broken down into various categories, each with its own unique set of options. For example, in the General tab you can find settings that allow you to change the UI language or select a default option for the window size. Meanwhile, under Playback you can find settings that let you select between Simple Mode and Menu Mode. If you remember, we mentioned a bit earlier how the free video player only supports Blu-ray disc playback in Simple Mode. The same also goes for Blu-ray ISO files and folders. In order words, you'll need to upgrade to one of the paid versions in order to enable menus for these formats.
One of the categories featured under the Settings menu is used for viewing and modifying the hotkeys supported by DVDFab Player 5. The category is suitable labeled 'Hotkeys'. Upon opening this tab you will notice three difference columns – Description, PC Mode, and TV Mode. The first column provides a brief description for what the hotkey does while the other two let you know which buttons to press in order to perform these actions when using the PC and TV modes, respectively. You can easily rebind hotkeys to other buttons by simply deleting the existing ones and typing something else in their place.
Accessing the Settings menu while TV Mode works a bit differently but the basic concept is the same. Go to the main UI and click the fourth option, labeled 'Settings' in order to access the menu. The menu looks different under TV mode but it contains many of the same categories we mentioned earlier, including General and Playback.
If you want to open the previously mentioned Settings menu, the one you can access while under PC mode, you can actually do it without actually having to leave TV mode. Simply click Settings and then go to the General tab. Here, you will find an option known as 'Advanced Settings'. Click this option to open the first Settings menu we talked about.
The reason why you may want to access this Settings menu instead of the other one is because only this one allows you to view and rebind hotkeys. The default Settings menu in TV mode is a bit more streamlined and contains fewer options so make sure to use the other one if you want to gain access to all the advanced settings offered by the free video player.
Navigation Menus and Additional Options
Although the free video player doesn't support navigation menus for Blu-ray discs, it does include access to DVD menus, just like all the other versions of DVDFab Player 5. In order to use navigation menus, you'll first need to make sure they are enabled so go to the Playback category in the Settings menu and select Menu mode if you haven't already. Navigation menus will pop up automatically when playing DVDs that include them so you don't need to worry about having to do anything else in order to enable them.
If you're not familiar with these types of menus, it's worth noting that they're very useful and quite fun to use. Every navigation menu is a little bit different but usually features four or five options, including a play button, a settings menu, a scene selector, and a special menu that contains various extras like behind-the-scenes footage, interviews, commentary, and more.
In addition to all the settings mentioned in the previous section, the free video player also contains a number of other useful options you may want to be aware of. These additional options can be easily accessed by right-clicking anywhere inside the main UI while the video is playing. This will bring up a new menu that contains several sub-menus. For example, you have Video, which allows you change the aspect ratio or rotate the video you're playing and Audio, which allows you to cycle through all available audio tracks, if there are more than one.
Here is where you can also load your own subtitles or access the Playback menu, which allows you to quickly move between chapters, fast forward or rewind the video, and. If you want to use any of these options more quickly, you can always use the hotkeys or the playback controls found in the lower part of the UI. There you can also find Play and Stop buttons, a volume slider, buttons that let you skip to the next or previous frame, and more.
Final Thoughts
Not only is it easy to play MP4/AVI/MKV (or other formats) with the free video player but it's also very fun thanks to the wide variety of options available. In addition, the player looks very sleek and modern, which is always a nice little bonus to have indeed. DVDFab Player 5 is capable of playing various files. For more information on how DVDFab Player 5 is a free DVD and ISO player, please visit our post for a detailed guide.
If you want to quickly play a video without having to worry about anything else, you won't need all the options and settings we talked about today. But if you're very picky about your viewing experience, you'll find that DVDFab Player 5 offers all the features you could ever need.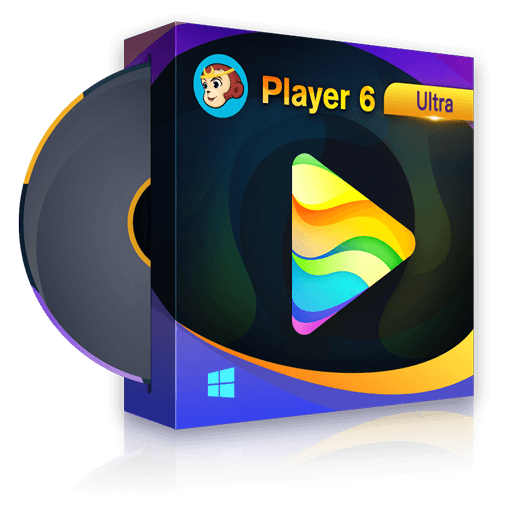 ① Play DVDs, Blu-rays and 4K Ultra HD Blu-rays with native menus
② Play non-disc media including all formats of videos, up to 4K
③ Play genuine 3D discs, ISO files, SBS or top & bottom 3D videos
④ Display the original HDR10 video to deliver crystal clear images
⑤ Output Hi-Res audios, like Dolby Atmos, with up to 7.1 channels